Oven-Roasted Red Cherry Tomatoes
Roland® | #45926
Cherry tomatoes, one of the smallest members of the tomato family in size, have a firm, smooth skin and sweet, tart taste. When cooked, they become sweeter and their flavor is enhanced. Roland® Oven-Roasted Red Cherry Tomatoes are slowly roasted for a fresh, vine-ripened flavor. This savory, aromatic product is perfect used as a pizza topping or tossed with pasta.
You May Also Like
Sliced Dried Shiitake Mushrooms
#44834 | 12 OZ.
Sun-Dried Tomatoes in Olive Oil
#46816 | 32 OZ.
Pickled Baby Corn
#45140 | 7.2 FL.OZ.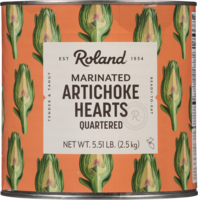 Marinated Quartered Artichoke Hearts
#40870 | 5.51 LB.