Cultivated Hearts of Palm
Roland® | #45840
Roland® Cultivated Hearts of Palm consists of prized, edible hearts of young palm trees with a silky texture and ivory color. This product is grown on a plantation where they harvest the whole plant.
You May Also Like
Pickled Baby Corn
#45140 | 7.2 FL.OZ.
Sun-Ripened Diced Dried Tomatoes
#46884 | 5 LB.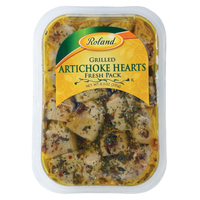 Grilled Artichoke Hearts Marinated in Vinegar and Oil
#31014 | 8.2 OZ.
Julienne Carrot Strips
#43602 | 5.51 LB.