Red Pimientos
Roland® | #45520
Roland® Red Pimientos are imported from Spain. Pimientos are a species of red pepper that are large and heart shaped. These sweet peppers are mild yet flavorful and sweet. Our pimientos are peeled to leave a thick, meaty flesh that is tangy and juicy.
You May Also Like
Ajvar - Spicy Pepper, Eggplant & Garlic Spread
#46758 | 4.4 LB.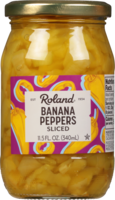 Sliced Banana Peppers
#45776 | 11.5 FL. OZ.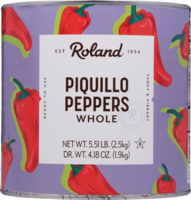 Whole Red Piquillo Peppers
#45538 | 5.51 LB.
Marinated Quartered Red Peppers
#45670 | 24.3 FL. OZ. (720mL)