Dried Cepes Mushrooms
Roland® | #44812
Roland® Dried Cèpes Mushrooms from France are pale brown with a strong, woodsy flavor. They have a smooth, fleshy texture, and are about 1" long. Boletus Edulis is the Latin name of this fungus, which is also known as Porcini in Italy.
You May Also Like
Sun-Dried Tomatoes in Olive Oil
#46808 | 12 OZ.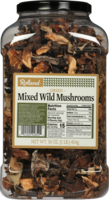 Mixed Wild Mushrooms
#44854 | 16 OZ.
Sun-Dried Tomato Halves
#46890 | 5 LB.
Extra Small Artichoke Bottoms
#40952 | 13.75 OZ.