Dried Cèpes Mushrooms
Roland® | #44810
Roland® Dried Cèpes Mushrooms from France are pale brown with a strong, woodsy flavor. They have a smooth, fleshy texture, and are about 1" long. Boletus Edulis is the Latin name of this fungus, which is also known as Porcini in Italy.
You May Also Like
Extra Large Button Mushrooms
#44620 | 16 OZ. DW
Grilled Roman Style Artichoke Marinated in Vinegar and Oil
#31030 | 4.18 LB.
Premium Hearts of Palm
#45834 | 28.2 OZ.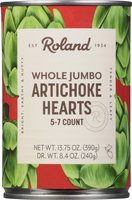 Jumbo Artichoke Hearts
#40242 | 13.75 OZ.