Sliced Bamboo Shoots
Roland® | #42210
Roland® Sliced Bamboo Shoots are cut from the heart of the bamboo plant. They have an ivory to light yellow color and a mild flavor. They add a pleasant crunchy texture to stir-fries and soups.
You May Also Like
Sun-Dried Tomatoes in Olive Oil
#46810 | 12 OZ.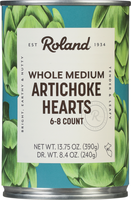 Medium Artichoke Hearts
#40252 | 13.75 OZ.

Nonpareille Capers
#70026 | 3 FL.OZ.
Capote Capers
#70071 | 5 GAL.