Extra Large Artichoke Bottoms
Roland® | #40942
Sourced from the finest artichoke producers in the world, Roland® Artichoke Bottoms are cut in round concave circles from the base of the artichoke and packed in a simple brine at peak freshness to maintain their tender and plump texture, and their bright, earthy flavor. Pre-cut and ready to use straight from the can they are a convenient staple for every kitchen.
You May Also Like
Capote Capers
#70031
Cultivated Hearts of Palm
#45838 | 28 OZ.

Nonpareille Capers in Sherry Vinegar
#70002 | 3.75 FL.OZ.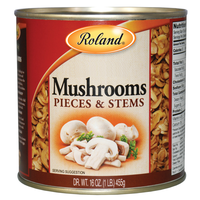 Button Mushrooms Pieces and Stems
#44300 | 16 OZ. DW