Quartered Artichoke Hearts
Roland® | #40499
Sourced from the finest artichoke producers in the world, Roland® Quartered Artichoke Hearts are cut into uniform quarters, packed in a simple brine at peak freshness to maintain their firm, leafy texture, and their bright, earthy flavor. Due to our expert quality control, our Whole Artichoke Hearts are exceptional and a cut above the rest in both flavor and texture. Pre-cut and ready to use straight from the can they are a convenient staple for every kitchen.
You May Also Like
Sun-Ripened Dried Tomatoes in Sunflower and Olive Oil
#46824 | 4.13 LB.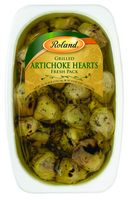 Grilled Artichoke Hearts Marinated in Vinegar and Oil
#31010 | 4.18 LB.
Sun-Dried Tomato Halves
#46888 | 3.5 OZ.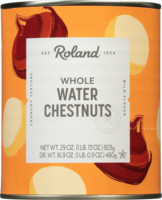 Water Chestnuts
#42800 | 29 OZ.