Borretane Onions in Balsamic Vinegar of Modena
Roland® | #31050
Roland® Borretane Onions in Balsamic Vinegar are small, Cipollini onions with a sweet, crisp taste. The tray pack with a plastic seal allows you to fully view this attractive and delicious product.
You May Also Like
Capote Capers
#70028 | 3 FL. OZ.
Sun-Dried Tomato Halves
#46858 | 2 LB.
Sun-Dried Tomato Strips
#46896 | 40 OZ.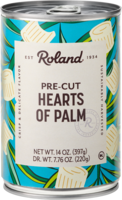 Pre-Cut Hearts of Palm
#45810 | 14 OZ.