Grilled Artichoke Hearts Marinated in Vinegar and Oil
Roland® | #31010
Roland® Grilled Artichoke Hearts have a firm yet tender texture, and a delightfully aromatic flavor. Marinated with garlic, parsley and oregano, they are a delicious addition to antipasti plates and salads.
You May Also Like
Cut Baby Corn
#45116 | 6.39 LB.
Sun-Ripened Dried Tomatoes in Sunflower and Olive Oil
#46824 | 4.13 LB.
Sun-Dried Tomato Halves
#46886 | 3.5 OZ.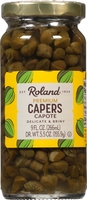 Capote Capers
#70050 | 9 FL. OZ.