Escargots - Giant Snails
Roland® | #26014
Roland® Escargots (snails) are of premium quality. Packed without shells, there are 12 giant snails per can, and they are of uniform size. They are carefully cleaned, well cooked, and tender with a grayish color.
You May Also Like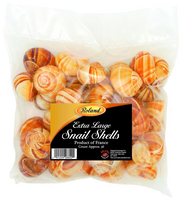 Extra Large Snail Shells
#26600 | 3 Dozen
Escargots - Giant Snails
#26002 | 7.76 OZ.
Flat Anchovy Fillets in Sunflower Oil
#18171 | 28 OZ.
Anchovy Fillets in Olive Oil
#18236 | 2 OZ.