Escargots - Giant Snails
Roland® | #26000
Snails, called escargots in French, have a tender texture and mild flavor. Serve them in a warm pool of snail butter, made with butter, garlic, shallots and herbs.
You May Also Like
Pacific Clams
#21290 | 15 Oz.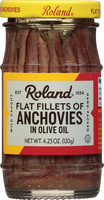 Flat Fillets of Anchovies in Olive Oil
#18200 | 4.23 OZ.
Smoked Baby Clams in Oil
#21100 | 3 OZ.
Escargots - Giant Snails
#26205 | 28.2 OZ.