Premium Smoked Oysters
Roland® | #24520
Roland® Smoked Oysters are carefully harvested from Pacific waters, and packed in a 3 oz. tin. They are Cherrywood smoked, and packed without shells. They have a dark brown color, mild flavor, and firm (not chewy) texture.
You May Also Like
Escargots - Giant Snails
#26002 | 7.76 OZ.
Extra Large Snail Shells
#26604 | 2 Dozen
Sardines with Chili Pepper
#13116 | 4.4 OZ.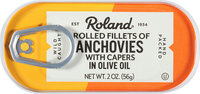 Rolled Anchovies with Capers in Olive Oil
#18226 | 2 OZ.