Premium Smoked Oysters
Roland® | #24520
Conveniently shelled before being hand-packed in an artfully executed display, our Smoked Oysters have a rich, smoky, briny, and umami-packed flavor with a delicate, creamy texture. Roland® Smoked Oysters are harvested from the cold waters of the Pacific before being cured by cherrywood smoke and packed in sunflower oil. They are ready to use and can be displayed in the tin for a picturesque tapas spread, or as an ingredient in dips and spreads.
You May Also Like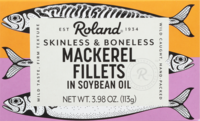 Skinless & Boneless Mackerel Fillets in Soybean Oil
#23314 | 4 OZ.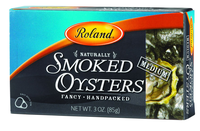 Medium Smoked Oysters in Oil
#24540 | 3 OZ.

Clam Juice
#21232 | 8.1 FL.OZ.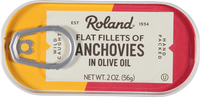 Flat Fillets of Anchovies in Olive Oil
#18222 | 2 OZ.