Skinless & Boneless Mackerel Fillets in Soybean Oil
Roland® | #23314
Packed in an easy-open tin and conveniently boneless and skinless, Roland® Mackerel Fillets in Soybean Oil are tender, meaty, and flaky, with a delicate taste. Our Mackerel Fillets are ready to use served atop salads or tossed into pasta for added flavorful depth.
You May Also Like
Sardines in Soybean Oil
#12510 | 4.4 OZ.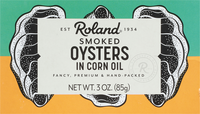 Premium Smoked Oysters
#24520 | 3 OZ.
Limpet Shellfish
#82036 | 15 Oz.
Anchovy Fillets in Olive Oil
#18236 | 2 OZ.