Skinless & Boneless Mackerel Fillets in Soybean Oil
Roland® | #23310
Mackerel has a rich flavor and tender texture similar to that of sardines. Roland® Skinless & Boneless Mackerel Fillets in Soybean Oil make a light and tasty lunch when served on toast with cucumber and creamy horseradish sauce.
You May Also Like
Abalone Style Limpets
#82070 | 15 OZ.
Sardines in Soybean Oil
#12510 | 4.4 OZ.
Anchovy Fillets in Olive Oil
#18236 | 2 OZ.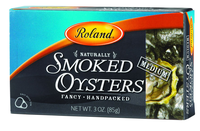 Medium Smoked Oysters in Oil
#24540 | 3 OZ.