Smoked Baby Clams in Oil
Roland® | #21100
Roland® Smoked Baby Clams in Clam Juice are firm and meaty with a subtly smoky flavor. Try them on their own as an appetizer, tossed in seafood salads, or in seafood pasta.
You May Also Like
Sardines in Olive Oil
#12122 | 4.4 OZ.
Escargots, Very Large Snails
#26043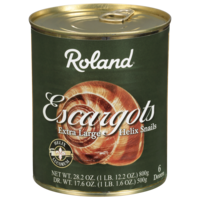 Escargots - Extra Large Helix Snails
#26222 | 28.2 OZ.
Smoked Baby Clams in Oil
#21100 | 3 OZ.