Skinless & Boneless Sardines in Water
Roland® | #17220
Sardines are small, oily fish with a savory flavor and firm texture. Plump and flavorful, Roland® Skinless and Boneless Sardines are a true delicacy. They are delicious served cold as a topping for salads and crackers. They can also be added to cooked seafood dishes.
You May Also Like
Anchovy Fillets in Olive Oil
#18236 | 2 OZ.
Baby Conch in Water
#29248 | 15 OZ.
Rolled Anchovies with Capers in Olive Oil
#18224 | 2 OZ.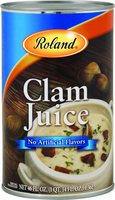 Clam Juice
#21236 | 45.9 FL. OZ.