January 10, 2022 | Seasonal Guides
---
Seasonal Brunch and Picnic Ideas Guide | Spring into Flavor
---

Spring brings with it an invigorated spirit and opportunities for new beginnings. As the ground clears and sky brightens, the quest for new food and beverages inspires exploration. Warmer weather lends itself to outdoor and open-air gatherings – whether picnics in the park or bubbly brunches. In today's world, people remain inspired to host their own get-togethers with close family and friends. In fact, according to a 2021 survey by ButcherBox, Americans' desire to host in their homes rose by 25% over pre-pandemic levels. Are you looking forward to springtime gatherings and already researching picnic ideas or ways to perfect your next brunch? You've come to the right place.
To help you prep for all your upcoming seasonal soirees, we've put together this Spring Brunch and Picnic Ideas Guide, which dives into fresh flavors, inventive ingredient pairings, Roland Foods' product spotlights, and plenty of inventive recipes to liven up your springtime gatherings. Greatness awaits!
In this blog, we'll discuss:
Tips for entertaining
Several spring-inspired brunch and picnic recipes
Ideas for picnic and brunch themes and schemes
Spring Brunch and Picnic Ideas | The Planning and Prepping
Every great gathering starts somewhere. When thinking about entertaining, begin with a solid plan for execution. Some questions you will want to ask yourself when kicking off this preparation phase:
Who will I invite and how large will the party be?

Deciding whether you'll host your event indoors or outside (or a mix of both!) will help you decide how large the guestlist should be. You want to make sure that your attendees will be comfortable in your space and that you'll have enough food and drink for everyone.

Will there be a theme or a simple color scheme to set the tone?

A theme can be a fun way to elevate your springtime picnic or brunch. Whether it's a high noon tea party or old-world brunch, having a theme as a focal point can help you build the event. Not into themes? No problem. We also like to look to seasonal trends for color inspiration. We'll discuss more about creating the atmosphere in our "Setting the Scene" section of this guide.

What unique menu options can I bring to the table to wow my guests?

Aside from socializing, the next biggest draw for guests is the food and drink! Cooking up a creative seasonal menu will have your attendees excited to be a part of your springtime feast. Think about building out your picnic or brunch menu with a variety of items, ranging from enticing appetizers to a delicious dessert. And don't forget the drinks!

Are there any trendy food items I should incorporate into the spread?

Food trends are always changing and can be fun to incorporate into your picnic or brunch spread. Check out our Fine Foods Trends Guide for some insight into the foods that are having a moment.

What else will I need other than food and drink?

How many times have you been in the midst of hosting an event and thought "ahh I forgot the…" you fill in the blank. It's easy to forget items like napkins, plastic cutlery, ice, and even to-go boxes to pack up leftovers for your guests. Planning ahead will help to think through all the ancillary items you may need.

What can I do to make prep and clean up easier so I can enjoy more time with my guests?

Being a host comes with its set of challenges; one of those is being so busy hosting that you can't socialize with your guests! It's important while entertaining to be mindful and present with the people you invite into your home. Throughout this blog, we'll give you quick and easy tips that help you prep for your party in advance so you can spend less time in the kitchen and more time at your gathering.
Planning is part of the fun! Decide how you want your day to flow, what food and drinks you'd like to serve (we'll give you some ideas and recipes further down in the blog), and the atmosphere you're trying to create. Being a host gives you the freedom to create a memorable gathering for your guests. Especially now, as a result of the pandemic, people are craving more in-person experiences, and hosting a fun and festive springtime picnic or brunch can be the perfect way to satisfy their appetites.
Mapping Out the Menu
At Roland Foods, we're all about feeding culinary curiosities. We love seeing people experiment with food, utilizing unique global ingredients to create culinary masterpieces. When planning your next gathering, we challenge you to go for it and get creative! And we're here to help bring your menu to life with easy and delicious recipes (see them below!)
Our broad product line ranges from condiments, sauces, and spreads to crackers, snacks, and nuts – and everything in between. These are the globally sourced ingredients you need to make a stellar spread.
Let's get started on developing a spring-inspired brunch or picnic menu.
Brunch and Picnic Food Ideas
When we think of picnic food, fresh, bright, and easy-to-enjoy items come to mind. There are plenty of ways to incorporate picnic food recipes into your menu that while simple, are bound to impress your guests.
And when it comes to brunch recipes, the same philosophy applies. Shareable plates are perfect for brunches, and you can really mix it up by pairing traditional breakfast items paired with lunch favorites.
Many of the recipes below allow you to prepare some or all of the dish in advance. Take advantage of the pre-party prep so you have more time to spend with your guests during your event.
Springtime Starters
Charcuterie to Impress
Charcuterie is a growing trend, gaining popularity for both its melding of flavors and eye-catching presentation. It's the perfect picnic food for a spring get-together or a brunch starter. To start your event off right, give guests something to snack on when they arrive to start your event off right; the assortment of flavors and textures in charcuterie is sure to impress. And when it comes to charcuterie, the possibilities are endless. You can go sweet or savory, or both at the same time. Layering crackers with nuts, spreads, vegetables, fruit, and cheeses is an exciting way to expand the palate. Check out our charcuterie recipe.
Although charcuterie isn't tied to one season, you can lean into the warm flavors of spring with Roland Foods' products. Consider brightening up the board with Roland® Fig Jam, Chianti Wine Jelly, and Dried Red Cherries. Add even more spring flair by piling up Crostini with unique toppings and a Blood Orange or Balsamic Glaze to finish.
Go-to charcuterie ingredients, including Assorted Crackers, Cornichons, Tinned Fish (read our Tinned Fish Guide here to get the low-down), and Greek Olives will ensure your board has something for everyone.
We've rounded up our favorite charcuterie items here, so all you need to do is plate and enjoy!
Ras El Hanout Chicken Kebabs with Tahini Sauce
Global recipes continue to remain popular, which is something we're excited about at Roland Foods. In this dish, Middle Eastern flavors and spices, including our Roland® Ras El Hanout, meld to create an easy kebab appetizer with a tasty Roland® Tahini dipping sauce. Silverware-free = perfect brunch or picnic food!
Caprese Skewers
A simple yet impressive appetizer, caprese skewers come together in a matter of minutes and lean on fresh ingredients like bright basil and creamy mozzarella.
Salad and Dressing
Salads and sides are simple brunch or picnic foods to execute. They can also serve as reliable picnic side dishes that when made in abundance can go a long way. Read on for some brunch and picnic salads we're loving this season (and be sure to click through to the full recipes!)
Spicy Hearts of Palm Salad
Chopped Roland® Hearts of Palm, arugula, and a sweet vinaigrette are balanced by red onion and spicy Roland® Jalapeños in this bright spring salad. You can use it as a picnic side dish or a main.
Arugula Salad with Roasted Garlic and Balsamic Caesar Dressing
This recipe uses a plethora of Roland® ingredients, including Roland® Anchovy Fillets, Roland® Dijon Mustard, and Roland® Extra Virgin Olive Oil to create a creamy and tasty topper to salads, vegetables, and more. Use it as a dressing for a simple arugula salad or even as a dip for poultry or raw vegetables.
Main Courses
Hopefully your guests will still be hungry enough to explore more delicious dishes. Let's get into the main courses.
Double Quinoa Pancakes
Go all out for breakfast! Quinoa flour and our Roland® Red Quinoa are incorporated into a mix to create a delicious stack of flapjacks.
Quinoa Buddha Bowl
Layer on the flavor! This salad utilizes our Roland® White Quinoa paired with chickpeas, sweet potatoes, and avocado to create a dish that's appetizing to both the eyes and the stomach.
Mediterranean Grilled Cheese
A twist on a classic lunch item, this melty sandwich combines different cheeses, Mediterranean vegetables, including Roland® Grilled Artichoke Hearts, and bread to create a vegetarian-friendly delight.
Lo Mein Noodle Bowl
This main course pairs sweet with savory to create a delicious noodle dish topped with bright edamame and cucumber. You can double the recipe for larger parties, but these noodles are sure to go a long way! This application calls for chicken, but you can sub in a different meat of your choice or remove the poultry for a vegetarian option.
Barbecue Jackfruit Tacos
Jackfruit is an amazing plant-based substitute that works perfectly in tacos. In this recipe, jackfruit takes on a smoky barbecue flavor and the tacos are topped with garnishes of your choice.
Dessert and Drinks
Finish off your picnic or brunch menu with drinks and dessert. Tasty treats and sips will round out the event.

Raspberry Balsamic Semifreddo with Pistachio
This sophisticated semifreddo is an elevated grand finale. Caramelized raspberries are folded into a meringue and combined with a pistachio custard to create a delectable and impressive dessert. And the Roland® Balsamic Glaze finish is not to be missed!
*Note: this recipe needs to be set for 4-6 hours before serving, so be sure to make it in advance and keep it chilled prior to serving.
Classic Piña Colada
Hopefully you won't get caught in the rain at your gathering, but a Piña Colada could be the perfect refresher to pair with your meal. By utilizing Roland® Cream of Coconut, this tropical staple will have you feeling like you're on vacation.
Setting the Scene
The atmosphere you create for your guests is arguably just as important as the menu itself. A unique layout can help facilitate socializing – for example, one long rectangular table sets a different tone than a few high tops and lounge areas spread out in the backyard – it all depends on what you're going for.
Will your event take place indoors or outside? If it's an outdoor brunch or picnic, weather will be an obvious factor. When planning a picnic or brunch outdoors, you can rely on nature to help set the scene – flowers and greenery from your backyard or garden can serve as the perfect centerpiece!
Brunch will most likely take place in the daytime, but could your picnic possibly be in the evening? Considering the time of day will help you plan for factors like lighting and temperature.
And of course, as discussed, consider if you want to incorporate a theme or even a color scheme. There are plenty of themed brunch and picnic ideas to be inspired by. A color trend can also give you some inspiration – Pantone released their color trends for spring/summer of 2022, as well as the 2022 Color of the Year – Very Peri! Ask yourself: How can I incorporate color, pattern, and texture into tabletop items – linens, glassware, dishes, flowers, and accessories – to make a statement for my gathering?
Need some inspiration to get started? Check out a few spring-inspired tablescapes that caught our eye:
photos via A Fabulous Fete, House Beautiful, and AFP Design
And here is a quick list of some themed brunch and picnic ideas:
Spring Blooms Picnic
Travel the World Brunch
Leis & Luau Lunch
A Periwinkle Picnic (Pantone Color of the Year inspired!)
It's Time to Party

Spring is a reinvigorating time of year that lends itself to culinary experimentation and festive gatherings. We're already thinking about how to incorporate fresh flavors and ingredients into our springtime meals. With at-home gatherings still remaining popular, it's the perfect time to consider hosting a seasonal brunch or picnic.
We hope this extensive list of brunch and picnic ideas and inventive recipes will inspire you to host your own get togethers in the upcoming season. For more culinary inspiration, check out our other blogs.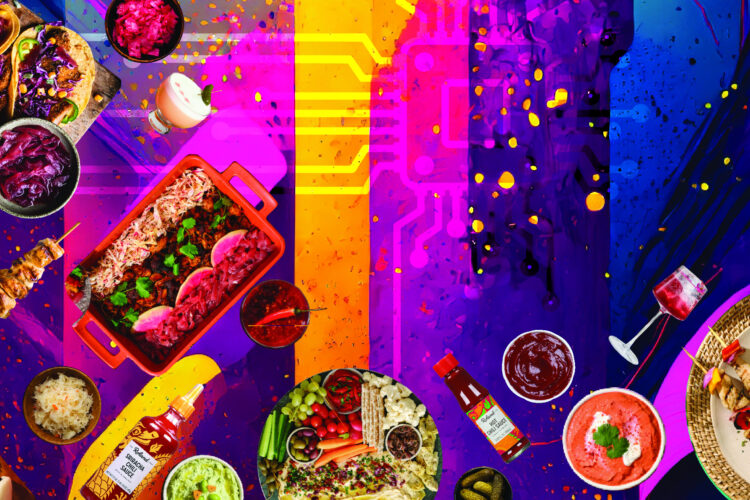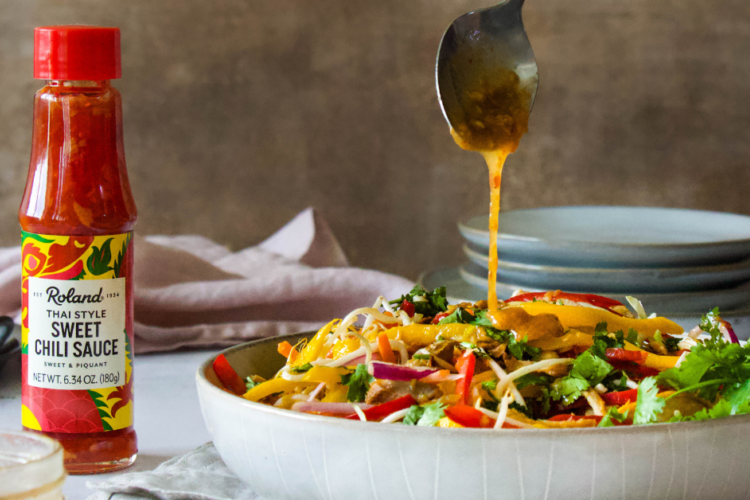 September 11, 2023 | Ingredients 101
---
What is Thai Sweet Chili Sauce?
What is Thai Sweet Chili Sauce? This in-depth guide explores the sauce's origins, suggested applications, and culinary inspiration.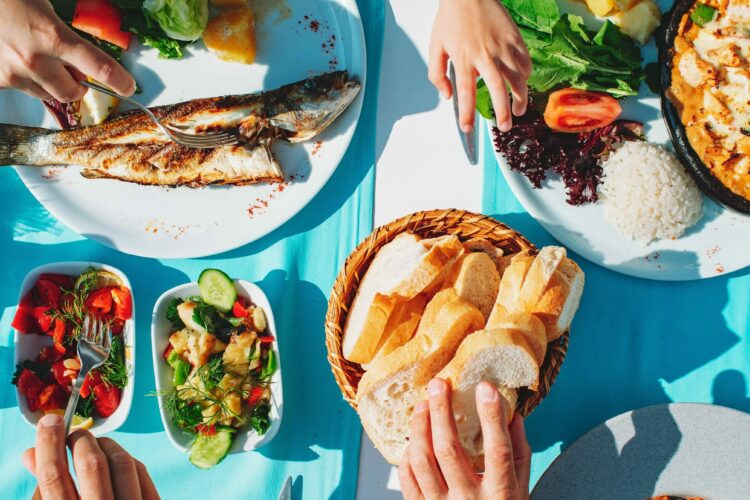 August 03, 2023 | Food Trends
---
The Mediterranean Kitchen | A Guide to Mediterranean Cuisine
Looking to create your own Mediterranean kitchen? In this comprehensive guide on the Mediterranean diet, we explain the method behind the Mediterranean lifestyle, how to follow the cuisine, its proven health benefits, and how it's popping up on restaurant menus across the United States.