October 06, 2022
---
Holiday Food Guide 2022: Bringing Trendy and Unique Dishes to the Table
---
The holiday season is right around the corner and inspiration is high for what could be on the dinner table this year. Incorporating the latest trends adds a unique take to traditional dishes and surprise elements for a dinner party filled with delicious holiday food.
During lockdown, people experimented in the kitchen and put their cooking skills to the test. According to IFIC, 60% of consumers say that they've been cooking more often since the pandemic began. After improving their skills with new techniques, flavors, and specialty ingredients, people want to show off—and there's no better way to showcase your cooking than hosting a dinner party full of holiday favorites.
Read on for the latest food trends and unique recipes for a successful holiday party.
Holiday Food Trends | Unique Spins on Classic Dishes
Unsurprisingly, this year's food trends are sticking around for the holidays and becoming an integral part of the festivities. The trendiest parties will feature charcuterie boards and a table full of colorful vegetables, meats, and unconventional desserts. This year's holiday food menu is all about experimenting - referencing old traditions while adding a modern twist.
Charcuterie Board | The New Party Essential
Each year, Google Trends queries for "appetizers" increase dramatically during the months of November and December. According to Tastewise, charcuterie consumption has also been increasing by 16.11% annually. Their growing popularity and creative optionality make them a fun alternative to traditional appetizers. Instead of offering your guests several starters, opt for a charcuterie board full of variety of breads, cheeses, condiments, and
Looking for some inspiration for unique charcuterie boards? Here are a few that caught our attention.
Cheese Fondue Charcuterie Board
Pair cheese fondue with fresh bread, crackers, assorted veggies and fruits, Roland® Cornichons, cured meats, nuts, and more for dipping.
Dessert Charcuterie Board
A twist on a traditional savory charcuterie board is guaranteed to make any sweet tooth happy. These dessert trays are filled with baked goods, chocolates, candies, fruit, popcorn, nuts, cookies, pretzels, and dips (try with Roland® Cookie Butter). This charcuterie board can be decorated for any occasion and is a great way to enjoy bite sized treats!
Chocolate Fondue Charcuterie Board
Dip everything your heart desires in melty, warm chocolate for this fun take on a charcuterie board. Include cubed cake pieces, pretzels, fruit, cookies, cubed brownie pieces, marshmallows, and more to give your guests a variety of sweets to dip.
Jarcuterie
Jarcuteries are individual charcuterie boards assembled in jars. These are a great alternative to traditional boards for single serving sizes. Simply pick a jar, add crackers, cheese, meat, and fill in the gaps with your favorite fruits, veggies, and nuts (try with Roland® Roasted Chestnuts).
Check out our charcuterie must-haves for more additions to your holiday food board!
Classic Main Courses — and Dishes with a Twist!
Proteins such as ham, poultry, and pork loins continue to be the main course for many holiday gatherings. YouGovAmerica conducted a poll of 1,300 Americans, asking them to choose between two Thanksgiving dishes. The top dish was the classic turkey, which won 83% of its matchups! Unsurprisingly, turkey remains the most popular option and will keep its place on the dinner table this season. However, people are adding their own twists to traditional turkey. Some use different cooking methods (smoking, brining, and frying), while others have more unique takes: spicing up a turkey with chipotle or adding hot honey.
For non-meat eaters, a popular turkey alternative has always been tofurkey, a plant-based roast. However, Google Trends queries for "tofurkey" are declining every year. This year, try Roland® Young Green Jackfruit for a plant-based entrée swap. Braise it with classic Thanksgiving flavors (think celery, carrots, onions, sage, and stock), and this veggie main course will be a highlight for your vegetarian (or vegan) guests. Even making simple and small replacements to traditional side dishes allows everyone to enjoy holiday food at the table. For example, for classic, creamy mashed potatoes, swap butter and milk for vegan butter and plain cashew milk!
Check out our Holiday Condiment Collection for more inspiration on what to add to your turkey or other main course this year!
Side Dishes | Variety is Key
Meals should be all about balance. Pair savory with sweet and hearty with light for the perfect plate! Provide a variety of side dishes for guests to choose from – because the sides are the best part of every holiday meal!
Below are some recipes to test your culinary skills this holiday season.
Butter Garlic Mushrooms
This recipe, created by food blogger and influencer Swarnika, is a classic side choice and an easy and simple dish to make. Full of garlic and butter flavor, this side will pair well with any main course!
Miso Roasted Carrots with Citrus Black Truffle Crema
These roasted carrots are not your typical veggie side. Roasted to perfection and packed with rich umami flavor, these carrots are paired with a delicious crema using Roland® Organic Black Truffle Oil.
Chipotle-Maple Roasted Cauliflower
Roasted cauliflower is a great addition to holiday plates; but why not make it more interesting on the palate? This sweet and spicy cauliflower is full of flavor and can even be battered and fried for a crispier bite!
Double Truffle Farro-tto with Roasted Chestnuts
Hearty, savory, and full of earthy flavor - this twist on traditional risotto is an amazing option for a side grain. The infused truffle flavor adds an element of surprise and complexity.
Spicy, Savory, and Sweet | A Holiday Dessert Mashup
Spicy food continues to be a trend, even for this year's holiday season. Google Trends queries for "spicy food" are increasing every year. Additionally, unconventional combinations are becoming more popular in the food industry. Adding spicy or savory flavors to desserts is a great way to break with tradition and impress your guests.
Here are some dessert ideas with a twist for holiday inspiration!
Cookie Butter Tiramisu
The warm delicious flavor of Speculoos Cookie Butter adds dimension to a traditional creamy tiramisu. Get the recipe!

Mexican Hot Chocolate Brownies
Combine the flavors of cinnamon and cayenne pepper with your favorite brownie recipe to make a Mexican hot chocolate-inspired brownie.
Chef's Tip: Add these two spices to any chocolate-based cookie recipe to create the same flavor!
Candied Nuts
Candied nuts are a great addition to a holiday dessert table for something to snack on, or to give as a gift! Consider incorporating cinnamon, cayenne pepper, nutmeg, and/or chili powder into your favorite candied nuts recipe. This sweet and salty combination will have a kick of heat!
Chef's Tip: Heat nuts of choice in a pan and stir with sugar (until dissolved) then mix in Roland® Spicy Chili Onion Crisp for another simple way to create sweet and spicy candied nuts.
Tahini Everything!
Tahini is a creamy and nutty paste made from ground sesame seeds. It's most commonly used in hummus, but can be incorporated into desserts for a delicious sweet and savory combination! To elevate your brownies, simply mix tahini into the batter or drop some on top to swirl into the batter before baking. Adding tahini will give your brownies a fudgy consistency with a rich and decadent flavor.
How about a cheesecake infused with tahini? It's not only delicious, but Instagrammable, too! Check out our recipe for Coconut Cheesecake with Black Tahini Swirl.
Chef's Tip: For toppings, add Roland® Black Sesame Seeds for a slight crunch or sprinkle a touch of Roland® Coarse Crystal Sea Salt to finish the dish.
Chocolate Bark
Bark is another easy dessert, while providing lots of room for creativity. First, choose your chocolate base (milk, semi-sweet, dark, or white chocolate). After melting your chocolate of choice and spreading it thin, it's time to add toppings: use chopped nuts, dried fruit, or coconut to add texture and crunch. For a spicy twist, sprinkle some cayenne pepper, crushed red pepper flakes, or chili pepper!
A Variety of Truffles
Want to delight family and friends with chocolate gifts that aren't store-bought? Try your hand at creating simple, yet delicious chocolate truffles in a variety of flavors. Wrap them up in beautiful boxes and you have tasty homemade treats to distribute for the season. Check out our chocolate truffle recipes, including these Chai Spiced Chocolate Truffles.
Let The Hosting Begin
With ideas for inventive charcuteries boards, sides dishes, main courses, and desserts, we hope you're feeling excited and prepared for the upcoming holiday season. Want to experiment in the kitchen in preparation for your party? Take a look at our product catalogue for more ingredients to incorporate into your holiday food menus. Happy holidays & happy cooking!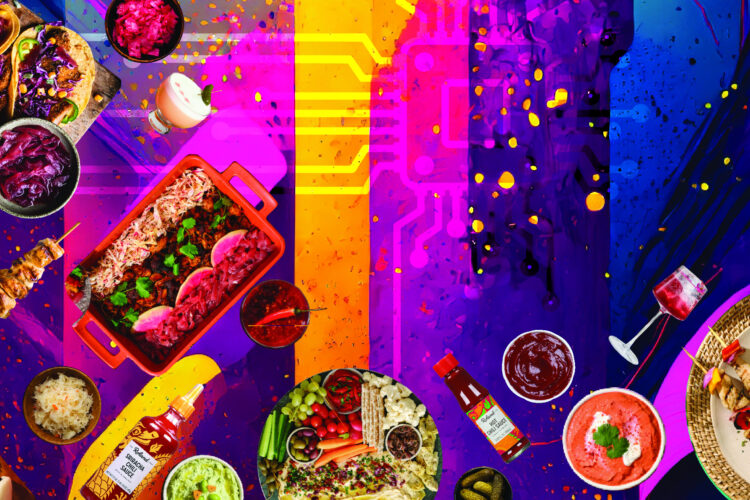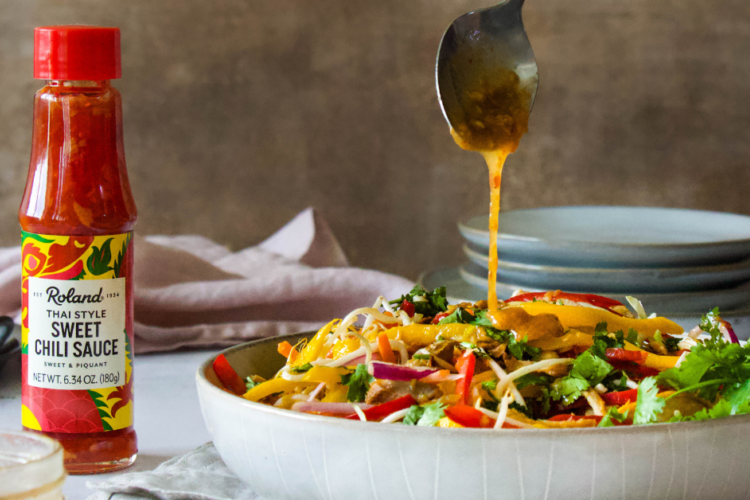 September 11, 2023 | Ingredients 101
---
What is Thai Sweet Chili Sauce?
What is Thai Sweet Chili Sauce? This in-depth guide explores the sauce's origins, suggested applications, and culinary inspiration.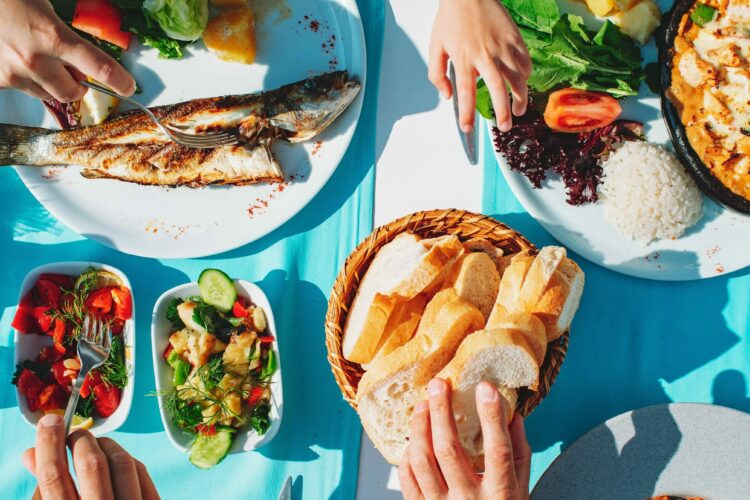 August 03, 2023 | Food Trends
---
The Mediterranean Kitchen | A Guide to Mediterranean Cuisine
Looking to create your own Mediterranean kitchen? In this comprehensive guide on the Mediterranean diet, we explain the method behind the Mediterranean lifestyle, how to follow the cuisine, its proven health benefits, and how it's popping up on restaurant menus across the United States.